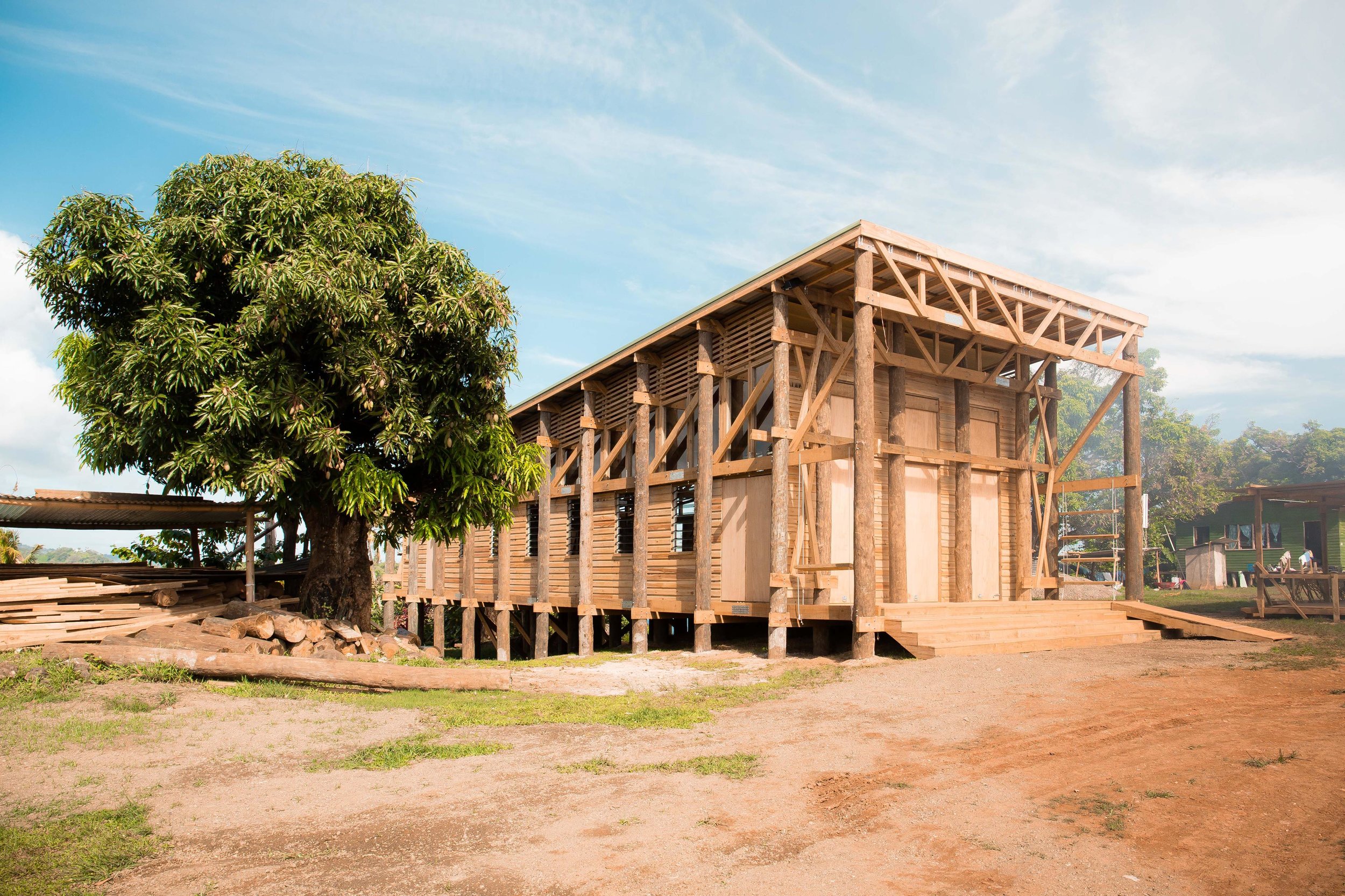 Project Build Length: 8 Weeks
Project Leaders: Joshua Peasley, Harrison Marshall, Alden Ching, Andrzej Bak, Clarissa Budiono
International Participants: Maria Reyes Bariain, Emily Charlton, Maggie Dalton, Dinjal Damania, Lewis Danielson, Ksenia Davydova, Nikolina Georgieva, Kate Gonashvili, Maddie Griffiths, Ash Kendall, Cassie Li, Nikoleta Petrova, Richard Rothwell, Nadejda Tabakova, Connor Tulip, Lili Wagner, Sabrina Waibel, Janet Wong
Project Partners: The Jazmin Fund, Naqaqa Giving Foundation
Project Donors: The John Gore Organization, Fulton Hogan Hiways, Spratley & Partners, Centrespace Structural Design, The Pratt Foundation, Vincent Hughes, Susan Rose, Stefan Berner, Sandra Elkins, Cristina and Liam Lynch Family Foundation, Anna Miller, Andrew D. Perlman, The Carl and Renee Landegger Trust, Aaron Siegel, Anna L. Miller, Niamh Blancardi, Salma Aitali, Paul Isaacs, Claire Fordham
Photographs: Katie Edwards
Awards: Shortlisted for Dezeen Awards 2019
Used to host weddings, birthday parties, funerals and much more, the community hall is at the heart of communities throughout Fiji. The Naidi Community have been without a space for 7 years, following the gradual decay of their previous hall, which was eventually deemed to be unsafe for use.
As a result, The Naidi Community Hall was built to serve the village of 400 people and 75 households. CAUKIN Studio worked in partnership with The Jazmin Fund, a charitable arm of the Naqaqa Giving Foundation to realise the project. The Jazmin Fund, run by Jazmin Grace Grimaldi, brought a performing arts theme to the hall and it's design, due to Jazmin's career in music and performing arts. The brief was to create a space which enabled the Naidi Community to express themselves creatively whilst providing a structure strong enough to take shelter in - in the event of any future natural disasters.
The opening shutters, louvre blades and large panes of glass create a naturally lit space internally, enhancing performances and events taking place within. Construction of the hall took place between July-September 2018 and involved a large team of overseas participants and villagers working together to complete the structure.
We would like to say a huge thank you to all those that contributed to this project by way of donation, supply of materials or just a helping hand! A special mention to Fulton Hogan Hiways, Spratley Studios, the Naqaqa Giving Foundation, The Jazmin Fund, Max Cross, Dan Ball/Josh Williams at Centrespace Design.
The design takes the form of a theatre stage, crescendoing out to the front facade which faces towards the centre of the village green. The three large counter-weighted doors open to create a stage to host various performances like the 'Meke' - a Fijian traditional dance. The large ceiling height allows for a natural flow of air throughout the building which is released through hit-and-miss timber cladding under the roof, resulting in a space that can remain cool on the hottest days.